280 Hit the Streets at U of M
Some guys borrowed high heels, some brought their own, and some shoes were destroyed in the process as the ninth Memphis Walk a Mile in Her Shoes once again gave local men a chance to rally against domestic violence and rape. Read more on our Walk a Mile page.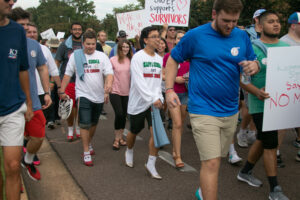 ---
PLEASE SEND A GIFT NOW
The Memphis Area Women's Council advocates for women on the toughest issues, when women are ill-equipped or sometimes too traumatized to advocate for themselves — especially when it comes to safety at home, in the work place, and on campuses.
This work is ultimately satisfying and yet can be tiring and depressing and unwelcome in many circles. That is why we depend on our friends and supporters to keep our energies high, our focus crisp and our attitude positive, with hope renewed over and over.
This time of year is a good time for those who care about what we do to help us stay in the fray — by helping to defray the costs of the work. Please consider a donation to the Council today.